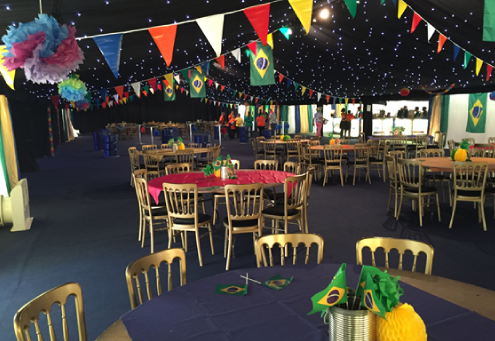 Fire Strategy - Autumn 2016
The requirement was to deliver a staff party for 2 nights with 550 people attending. The entire venue was to be built using marquees and completed within a week. It was located within a car park, which had to be back in operation a few days after the event. The brief included a dance floor, full club style venue plus a bar, several live acts and full hot kitchen including deep fat fryers and gas hobs to cater for a selection of eight hot dishes for the guests.

My role was to assess the overall fire risk and provide solutions to manage and mitigate those risks so that a safe event could be delivered.
The Fire Strategy
The initial considerations included:
Location
Acesss for the fire fighting appliances
Water Supplies
The marquees were erected over two days with all the fabrics certified as flame retardant.
Lighting was provided via three generators. Two of these were "duty" generators and one as a standby. Lights were wired so that alternative set were served by different supplies thus ensuring that a power failure in one generator did not result in total blackout in any area.
External lighting was supplemented by floodlighting to ensure safe egress was possible.
Hot kitchen. Here a brigade of 15 chefs prepared no less than 1300 small hot dishes plus starters and hot and cold desserts all on a theme of South American traditions. This required both electric and gas fired industrial cooking equipment including; deep fat fryers, gas hobs, ovens and bain-maries. Therefore electric and propane gas supplies were required.
A team of 35 front of house staff, served food, tended a large full bar facility and cleared tables. They would also have a safety role to play. A team of professional security staff was employed to ensure that the behaviors of the guests did not become over exuberant. They were also briefed on the evacuation process and would position themselves to assist people from the structure at the least sign of a fire related issue.
All relevant issues were included in a fire risk assessment that I put together in combination with the fire strategy for this project. This was discussed with the local fire authority and EHOs from the borough council prior to the event.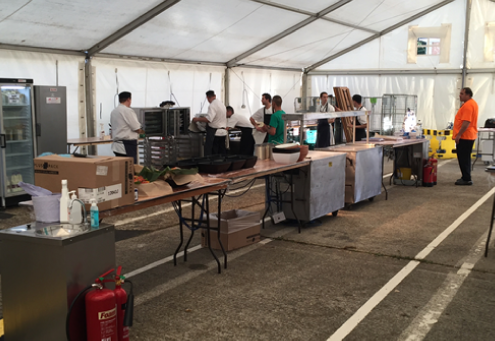 Measures and mitigation
Prior to event
Means of escape was calculated and an over provision provided. This was considered necessary due to a number of factors. There was a potential for a more rapid fire spread as a result of the type of structure: the lack of any automatic detection devices and the fact that alcohol would be consumed by many of the guests. The over provision of 75% was deemed to allow a rapid evacuation process.
Fire fighting equipment was provided at each exit and additional "F" class units provided for the kitchen. The kitchen area was separated from the main marquee. Access to the main marquee being gained through a number purpose built tunnels. This design removed any of the cooking risk from affecting the main venue area.
All electrical and gas equipment was independently tested by qualified persons prior to each event.
All staff were briefed on safety and fire procedures before each of the events and specific roles discussed to ensure that in the event of a fire related incident roles and actions were clear and concise.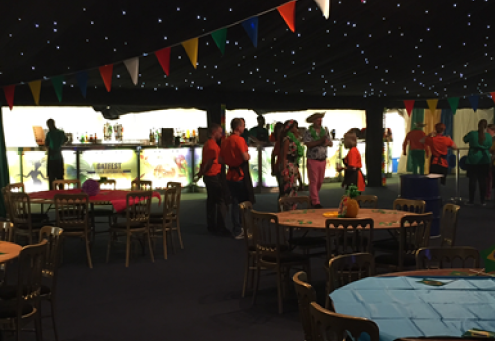 Diesel fuelled space heaters, provided with individual fuel tanks fully that were bunded to prevent any possibility of spillage. Heating equipment was inspected and tested to ensure it was safe and fully functional.
Management during the event.
Trained fire safety professionals carried out continuous patrolling of the venue. This including inspection of all lighting units, the kitchen appliances, gas supply, heating equipment, means of escape and access points. All vehicles were required to be at least 10 metres away from the venue to prevent possible involvement from a vehicle fire.
On site electricians were on hand to attend to any power related issues.
An incident management plan was set up should there be any problems. Designated procedures for managing the evacuation of guests and staff were created and the shutting down of the event if that should become necessary.
After each event there was a process in place to shut down the venue and secure it for the night.
The event passed off incident free and just over 1000 guests enjoyed a very entertaining evening over the two nights. This was a well conceived and managed event and from a fire safety aspect had been delivered in a sensible way; identifying the risks and mitigating them to a point where they could be eliminated or effectively managed.